If you plan to take your 4WD orn 4X4 off-road, then you are going to need a decent winch.
Come into Diamond Valley 4WD Centre and ask about our winch offerings.
We stock or sell major brands including:
Drivetech 4X4
Hulk 4X4
Piranha Off Road Products
Drivetech 4×4 Winches
There are few certainties in life…birth, death, taxes and needing recovery equipment on 4WD adventures.
Whether you are on or off the beaten track, chances are someone in your party is going to need a little mechanical assistance to get out of a bog or bind. Make sure you are properly prepared with quality parts that will turn a challenging situation into a successful recovery without risk to life, limb or vehicle/s.
We are proud to announce that we now have your equipment needs covered with Drivetech 4×4's new and extensive range of four wheel drive accessories, including:
4WD recovery gear
Independently tested kinetic recovery ropes
Snatch straps, bow shackles, recovery hitches and snatch blocks
Recovery accessories – folding saws and shovels, riggers gloves, head lamps and drag chains
Full recovery kits
High lift jacks and accessories
LED lighting, including LED spotlights
4WD snorkels
4WD underbody armour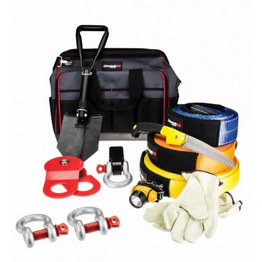 Piranha Off Road Winches
Piranha Off Road is a well known name to anyone who has been in the 4WD scene for a while and they have a great reputation for producing high quality electrical products.
Their Premier Electric Winches are a great example.
They feature:
Heavy duty series wound motor gives high torque and fast line speed.
3 stage planetary gearbox delivers the most reliable and durable performance even under worst conditions.
Patented automatic cone brake holds full load easily. The greater the load on the wire rope, the greater amount of brake force is applied by the mechanism.
Rotating ring gear free spool designed to pull and turn for rapid wire rope payout.
Some models include a 2″ rear receiver and quick connector kits mount directly to the vehicle frame without drilling.
Sizes range from 6,000lb right through to the top of the line 15,000lb models.