Drivetech 4×4 DT-Air Compressor
Off-road travel can be tough on tyres and many terrains are best navigated with lower tyre pressures than you would run on the road. Drivetech 4X4 have the new DT-Air Compressor that is perfect for your 4WD. Check out these features:
180L/min Air Compressor
Working pressure – 40psi
Maximum pressure – 150psi
Pistol grip inflator trigger with inbuilt deflator
2m power cord with battery clamps
5m rubber air hose with snap fittings
Duty cycle is 15min (at 24°C) with five minute cool down time
12 volt – 45amp
Heavy duty bag with pockets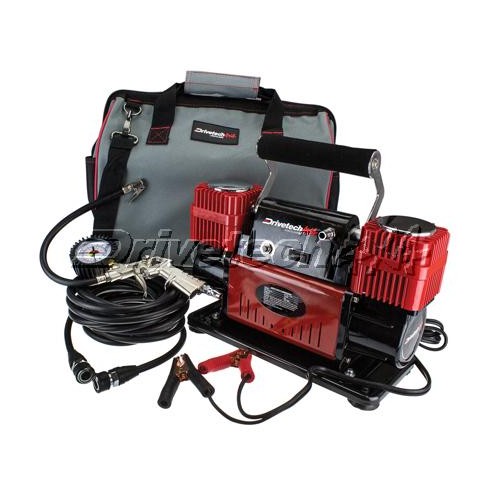 HPP Lunds Jetpower
Air Compressors – Four models make up the range of Jetpower Air Compressors – 38 litre single piston, 75 Litre twin piston, 95 Litre single piston and 155 Litre twin piston units. The 155 Litre also has an inbuilt circuit relay to prevent amperage spike which will cause switch burn out.
High quality single and double cylinder air compressors. Each supplied with their own carry bag and various attachments. Made from aluminium alloy – the range of Jetpower air compressors are made to perform. From the air mattress to a truck or 4WD, Jetpower air compressors just keep on performing. JPC038 Ideal for most Motorcycles, Caravans, Trailers, Bicycles, Mobility Scooters, Wheel Barrows, Sports Equipment and Beds for Camping JPC075 Will inflate a 205/65/15 car tyre in under 2mins and 35 seconds JPC095 Will inflate a 205/65/15 car tyre in under 1min and 55 seconds JPC155 Will inflate a 205/65/15 car tyre in under 1min and 40 seconds.