Whether you are on or off the beaten track, chances are someone in your party is going to need a little mechanical assistance to get out of a bog or bind. Make sure you are properly prepared with quality parts that will turn a challenging situation into a successful recovery without risk to life, limb or vehicle/s.
We are proud to announce that we now have your equipment needs covered with Drivetech 4×4's new and extensive range of four wheel drive accessories, including:
4WD recovery gear
Independently tested kinetic recovery ropes
Snatch straps, bow shackles, recovery hitches and snatch blocks
Recovery accessories – folding saws and shovels, riggers gloves, head lamps and drag chains
Full recovery kits
High lift jacks and accessories
LED lighting, including LED spotlights
4WD snorkels
4WD underbody armour
Diamond Valley 4WD Centre also carries recovery gear from:
TRED
Tough Dog
Terrain Tamer
Roadsafe
Hulk 4WD
Drivetech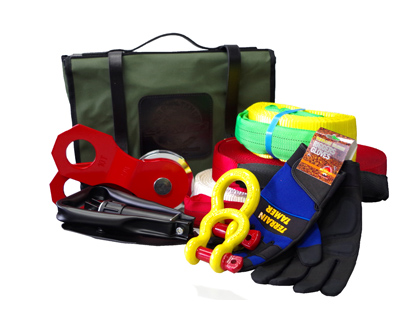 Roadsafe Recovery Gears
Roadsafe have a full array of 4WD Components to suit a huge variety of vehicles and applications. From Adjustable Panhard Rods, Drag Links, Track Rods, Trailing Arms, Recovery Gear, Shackles, Brackets & Braces, Radius Arms, Sway Bar Links, Sway Bars, Drop Boxes, Diff Drops, Upper Control Arms, Tail Shaft Spacers, Transmission Spacers, Coil Strut Spacers, Coil Spring Spacers, Strut Mounts, Bushings, Wheel Spacers, Battery Trays, Underbody Protection, Tow Points, Recovery Gear, Lift Blocks, Coil Retainers, General Offroad Accessories, Ram Extensions, Compressors, Towing Accessories, Camping Solutions, Mudflaps, Brake Lines… the list goes on & on. You will see the range is huge, and the variety exceptional. Our basic goal, when it comes to components for the 4WD's, is… 'if you lift it, we will endeavour to have something to fix all the issues caused by the lift'!
Terrain Tamers Recovery Gears
This ultimate Terrain Tamer pack contains all the Heavy-Duty Products you need to get out of any 'tough' situation. Heavy Duty Canvas Carry Bag contains Australian Made straps and keeps all your products in one easy to find place. Bag includes:
Snatch Strap
Winch Extension Strap
Tree Trunk Protector
Snatch Block
Large and Small Bow Shackles
Folding Shovel
Cap
Gloves
Tough Dog Recovery Kits
The Tough Dog recovery kit also has everything you need to get back on track.
Having a Tough Dog complete recovery kit on board gives you the confidence to know that no matter how stuck you get, you'll have the equipment to get back on track right there with you. With all the essentials for both snatch and winch recovery situations packed into the heavy duty bag, you'll always be prepared.
We also have a complete range of individual items if you need to expand your kit.
The Heavy Duty carry bag is made of 1200 denier canvas, and features structure ribs at the zip for easy access, clip together ABS carry handles, as well a hard ABS plastic base and multiple pockets to customise your 'go to' recovery bag to suit you.
TRED Recovery Gears
TRED single handedly revolutionised off roading with their easy to use tracks anti-bog system. The multi-purpose TREDs can help you dig yourself out of a hole and then use them to get some firm footing and traction and get you back on the track. These Australia designed and made tracks and now available from Diamond Valley 4WD Centre.